Montreal's Jesuslesfilles: 4 peens & 1 vageen.
Who are you wearing?
Denim.
Describe your perfect day.
Watching Chevy Chase movies while drinking bubbles, then meeting the guy at the restaurant for lunch, have him over for a private Bruce Springsteen concert, and not forget to drink water before going to sleep. Neat.
If Jesus was in your band, what would he play?
He'd take Azure's place and play tambourine.
Meanest thing somebody told you after a show?
Heille, bon show, man.
What is the smelliest season?
Spring. Dog turds reappear, hobos get rowdy, and such.
Best thing about being a band in Montreal?
Being close to NYC is one thing. Being close to the Fameux is one too.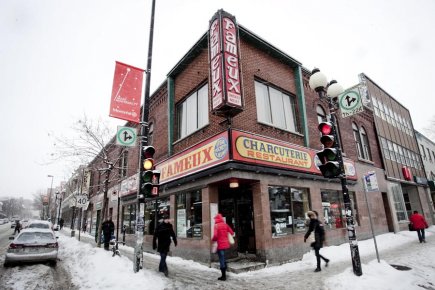 How far are we from Philadelphia? We'd like to meet The Boss.
Seems that the rent is low which helps musicians to work on their shit. Do you manage to work on your shit in NYC? Just so we can compare.
Favorite condiment to put on a poutine?
More cheese.
Tabasco.
Spicy mayo.
Sliced frankfurters.
Who is the best kisser in the band?
Azure, always on it. If Jesus was to join the band, he sure couldn't compete with her on that level.
Who is the girliest?
Jesus.
-----
LISTEN TO JESUSLESFILLES HERE:
-----
Links:
Jesuslesfilles on Facebook
Jesuslesfilles' on Bandcamp
Jesuslesfilles's website
CATCH JESUSLESFILLES IN NEW YORK ON MAY 31 AT SWAT BAR (59 Canal St., 2nd Fl., between Allen and Orchard St.)!