Big Drag: I would do anything for Meatloaf, but I won't do that.
Where are you?
Joshua: Nob Hill.
Heidi: Work.
Favorite drag queen?
Joshua: The World Famous *BOB*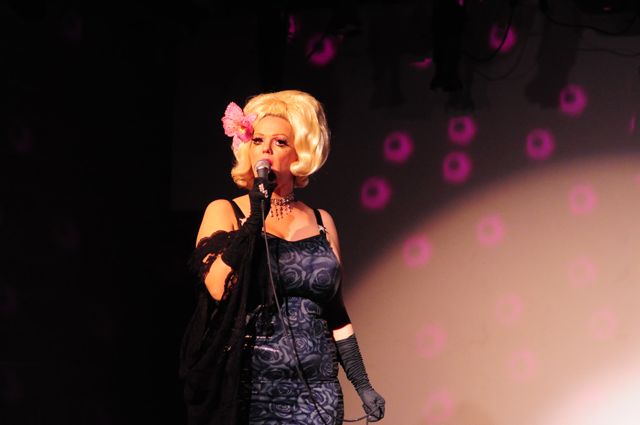 Heidi: Peaches Christ.
What band would you never, ever put on a mix tape?
Joshua: I would do anything for Meatloaf but I won't do that.
Heidi: Nickelback.
Who does the best version of 'Sweet Jane'?
Joshua: The Sugarcubes did a good one; the tambourine in that cut is unbeatable.
Heidi: I can never say someone does a song better than the original. The original is always the best.
What's the biggest drag about being in Big Drag?
Joshua: All our equipment is borrowed, falling apart, used or repurposed.
Heidi: Carting around drums, but I love my drums, so it's only a half drag.
Better Amoeba - San Francisco or Berkeley?
Joshua: San Francisco has a killer dollar bin. I've found LPs from Kris Kristofferson, Jimi Hendrix, Siouxsie and the Banshees & most recently "My Life in the Bush of Ghosts" from David Bryne & Brian Eno.
Heidi: Never been to the one in Berkeley.
Who would win a drag race between Big Drag and Giant Drag?
Joshua: Heidi is a mean motor scooter. I doubt ANY of us would play by the rules though.
Heidi: I think we have more gear than Giant Drag would, so she would proobably win because our car would be weighed down by gear.
What San Francisco band can you not believe isn't super famous already (besides Big Drag)?
Joshua: SweatLodge prolly, they're the dirtiest band in San Francisco.
Heidi: The Mallard.
Coolest movie shot in San Francisco?
Joshua: Harold and Maude has that Sutro Baths scene.
Heidi: Sleepless in Seattle.
Best advice you ever got?
Joshua: "Fool me once, shame on you, fool me twice shame on me." Geroge W. Bush
Heidi: If you want to do something just go and do it, you're only young once. (My Boss)
-----
Listen to Big Drag here:
-----
Link:
Big Drag on Facebook